Contact Form
Transit Directions
Conveniently located in the heart of Kerrisdale Village on the corner of Balsam Street.
Free street parking available on Larch Street and one block South on Balsam. Metered parking available all along 41st and on block either side on Balsam.
Accessible via public transit along 41st Street. (41) UBC located half a block East.
(43) UBC Express, (16) Arbutus and (480) Bridgeport Stn located 4 blocks East at West Boulevard and 41st.
Contact Information
Occlusal Rehabilitation Centre
Dr. Abbas Tejani
Phone: 604-687-3740
1010 Mainland Street(Yaletown)
Vancouver, BC V6M 2A7

occlusalrehab@gmail.com (occlusalrehab null@null gmail NULL.com)
Office Hours
Monday (Administrative Days.)
8:30am – 4:30pm
Tuesday (Administrative Days.)
8:30am – 4:30pm
Wednesday (Clinical Day)
10:00am – 5:00pm
Thursday (Administrative Days.)
8:30am – 4:30pm
Location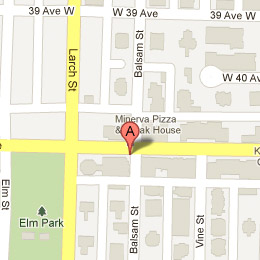 (http://maps NULL.google NULL.ca/maps?q=2408+W+41st+Ave,+Vancouver,+BC&hl=en&sll=49 NULL.891235,-97 NULL.15369&sspn=25 NULL.940006,56 NULL.513672&t=m&z=16&vpsrc=0&iwloc=r2)
(http://maps NULL.google NULL.ca/maps?q=2408+W+41st+Ave,+Vancouver,+BC&hl=en&sll=49 NULL.891235,-97 NULL.15369&sspn=25 NULL.940006,56 NULL.513672&t=m&z=16&vpsrc=0&iwloc=r2)View larger map (http://maps NULL.google NULL.ca/maps?q=2408+W+41st+Ave,+Vancouver,+BC&hl=en&sll=49 NULL.891235,-97 NULL.15369&sspn=25 NULL.940006,56 NULL.513672&t=m&z=16&vpsrc=0&iwloc=r2&source=embed)