The latest technology and instrumentation with proven techniques are used in the diagnosis and  treatment management of TMD, head and neck pain and bite problems in our clinic.

Joint Vibration Analysis (JVA)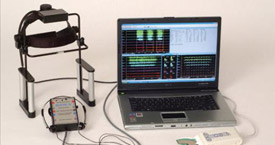 A non-invasive form of tm joint assessment with high sensitivity and specificity based on the principal of motion and friction.  The human joint, when in a proper biomechanical relationship, are smooth and well lubricated.  When they rub together they create little friction or vibration.  When surface changes occur, such as those caused by degeneration, tears or displacement of the disk, the joint generally produces friction and vibration in the form of joint sounds.  The wave patterns generated by these sounds can be interpreted as to the laxity and damage in the joints.
JVA provides a detailed, non-invasive, and repeatable measurement of TMJ function.  As different disorders can produce different vibration patterns or "signatures," computer-assisted vibration analysis helps us to identify these patterns and to more effectively direct a treatment program with accuracy.

3-Dimensional Jaw Tracking (JT)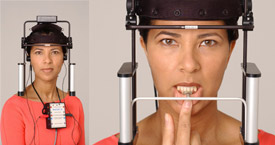 The state of the art 3D Jaw Tracker allows us to assess jaw movement, velocity and the absolute ranges of motion in order to document the pre-treatment condition of the joint and muscles and therapeutic improvement after treatment.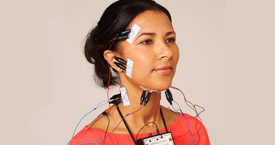 The worldwide standard for recording activity in the skeletal muscles.  EMG is a highly specific, sensitive and proven test to objectively measure the actions and reactions of the muscles in the head and neck.  It allows us to assess their function and show which muscles are resting properly or hyperactive.  It provides immediate evaluation of the synergy, symmetry and timing of craniofacial muscle firing to expedite the process of evaluating mandibular muscle function.
Quadra-TENS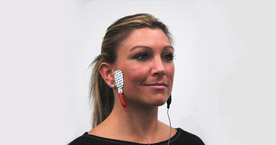 A safe, simple and effective alternative to medication for managing orofacial pain.  TENS is an ultra low frequency Transcutaneous Electrical Neural Stimulator which delivers a precisely regulated, rhythmic stimulus to both masticatory and facial muscles to aid in therapeutic jaw stabilization and relax the jaw muscles.

T-Scan – Computerized Bite Analysis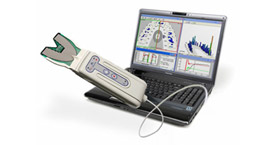 Beside is an example of our computer occlusal analysis system. no longer can one rely on marking ribbon for accurate information about the way teeth contact in the bite. With the T-Scan we are able to asses and properly correct for optimal occlusal (bite) loading, especially in all porcelain rehabilitation and in mouth with implants which must be loaded AFTER the natural teeth when you bite. The timing of tooth contact, center of force, and balanced loading are part of the information used.

Low-Level Light Therapy (LLLT)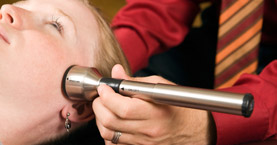 LLLT is a medical laser treatment that uses low-level light-emitting diodes or lasers to alter cellular function.  It is used to treat inflammation and has been shown to increase the healing and regeneration of cells and to reduce short-term, acute and chronic pain in muscles and joints.  LLLT should be administered by a trained doctor or clinician to ensure the appropriate location of treatment, dosage, wavelength and pulsing to ensure maximum effectiveness.  It is a painless, drug-free, non-intrusive treatment alternative.

Cone Beam CT Scan
By using high-tech 3-D digital imaging, (CBCT), we determine TMJ health in conjunction with the bones of the skull, bone around the teeth, airway, sinuses, and nasal passages to gauge potential problems within soft tissues or the skeleton. A complete evaluation includes the TMJ, skeletal system, chewing mechanics, and the airway, which all form a critical part of our diagnosis. We believe all orthodontic treatment should include these interconnected factors.

MRI
Magnetic Resonance Imaging (MRI) is a non-invasive, x-ray free scanning technology that uses radio raves and magnetic fields to produce clear and detailed images of nearly all the organs in the body. MRI especially excels in showing soft tissue organ abnormalities which is why we recommend this procedure for diagnostic purposes in order to locate the disc position. This is the gold standard for assessment of disk problems as the imaging medium reveals both the bone and the disk/s. One can be placed on a waiting list at Vancouver General Hospital phone 604-875-4684 for bookings but this can take and usually does take months.
MRIs can be done privately with no waiting at Canada Diagnostics (http://www NULL.canadadiagnostic NULL.com) (off site link) at 12th and Cambie in Vancouver, BC and can be reached at 604-709-8522

Doppler Ultrasound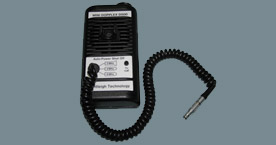 The Doppler is a non-invasive, rapid accurate auscultation instrument specifically for the detection, analysis, and evaluation of Temporomandibular Joint Dysfunction. The use of the Doppler in diagnosing and treating TMJ is very helpful. By listening carefully, Dr. Tejani and Dr. Nasedkin can use the Doppler to help determine the condition of the jaw joint and whether there are any problems such as perforations, joint space adhesions, crepitus, or inflammation in surrounding tissue.  After the diagnosis and treatment of TMD has begun the Doppler can be used to ensure that patients are continuing to progress in the treatment of their TMD. The Doppler is just one of the many tools we use to make sure your smile is as healthy as it is beautiful.

Electronic Stethoscope
Temporomandibular Joint (TMJ) sounds, clicking and crepitation are important signs of possible TM disorder or dysfunction (TMD). This is an electronically enhanced stethoscope, the same as your doctor would use to listen to your heart, but much more sensitive. This enables the doctors to listen to the sounds from your jaw joints aiding the diagnostic process. The sounds are usually recorded and observed by stethoscope auscultation or palpation. Using a medical stethoscope, Dr.Tejani or Dr. Nasedkin will listen to the TMJ as the patient opens, closes and moves the jaw from side to side. Sound in the joints is abnormal. The type of sound, whether a distinct click or a crackling sound is significant as each represents a different state of joint dysfunction. The position in the open/close cycle at which sound is heard is also important.

Spinal Analysis Machine (SAM)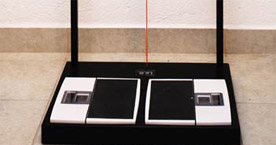 Spinal Analysis Machine is a posture analysis machine used for postural exams. A spinal screening evaluates and educates the individual about the connection between their posture and back pain and offers a more detailed exam. S.A.M. delivers a complete screening from greeting to end in less than 3 minutes.

Jaw Joint Simulators
the latest in articulators which represent the way your jaw joints function and replicate the actual working environment and axis of rotation of the joint.  Models of the teeth, held by hand where most teeth mesh together tells us nothing about the relationship of the jaw joint to the bite.  In a Jaw Joint Simulator with an intra-oral recording of the bite we can fabricate specific, customized appliances which bring the teeth together in the most physiologically comfortable and functional position for the joint.

Facebow
An indexing device to accurately record the location of the upper teeth relative to the jaw joints to ensure that restorations and orthotics are accurate to the optimal bite relationship and anatomy.